Model RL16XT "Xsight"
:: with alignment lasers and quadrant controller
High-intensity LED lamps arranged in quadrants
Exclusive, patented laser crosshairs for rapid visual alignment
Constant color, constant light, and strobe illumination modes
USB compatible controller with solid-state touchpad
Sealed body, IP65 rating
Compact size and flexible mounting options
Optional dark field illuminator and polarizer
CE compliant
Advanced ring light system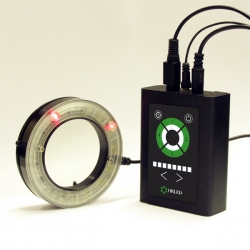 Model RL16XT is an advanced LED ring light system with state-of-the-art features. Each of its four, high-intensity light quadrants can be independently activated to provide uniform illumination or create shadows to highlight details. It can also project laser crosshairs to facilitate rapid positioning in a microscope's field-of-view. The ring light controller has a touchpad for manual control and USB interface for computer control. Its compact size, high reliability and exclusive features make the RL16XT ideally suited for inspection microscopes in manufacturing, forensics, dental laboratories, and gemology.
Alignment lasers
At the touch of a button, the built-in lasers will project bright alignment crosshairs on the microscope stage. A feature placed at the crosshairs using the naked eye can be immediately located when looking through the microscope, and features observed through the microscope can easily be located by naked eye.
Shaped lighting
Light quadrants can be selectively activated to provide smooth, even illumination or to create shadows to help define surface details. Fresnel optics distributes light around the diameter to minimize visible reflections from shiny surfaces.
Camera friendly illumination
Many ring lights control intensity by flashing at a rate that is invisible to humans but low enough to interfere with video and still cameras. The RL16XT reduces this effect by flashing at a much higher frequency, and it can also completely eliminate interference by dimming its LEDs instead of flashing them. In addition, it can output precisely timed strobe flashes in response to hardware or USB triggers.
Intelligent thermal design
The LEDs used in the RL16XT are very different from the traditional 5mm bullet-shaped devices found in other ring lights. Our LEDs provide a direct heat path from the die to the ring light body, which allows them to output high intensity light without overheating. This is important because die temperature determines the reliability and longevity of LEDs.
Intuitive touchpad
The detachable controller has a spill-resistant, solid-state touchpad that toggles power to the quadrants and crosshairs. A brightness control provides eight steps of illumination intensity.
Remote control
For automated applications, simply connect the controller to a computer with a USB cable. The computer can access all touchpad functions as well as additional features that are available only through USB.
Versatile mounting
Soft-point screws secure the ring light to a 2.1 to 3.0 inch diameter microscope without damaging it; smaller diameters can be accommodated using custom screws. Additional threaded holes are provided for custom mounting solutions.
Sealed body
The ring light is sealed to an IP 65 rating to protect it from splattering fluids, corrosive fumes and damaging dust particles. 62mm threads are provided for mounting an optional, protective camera lens filter.
Optional accessories
Polarizer — The RL16XT can be supplied with a polarizer film and analyzer filter. This feature reduces glare from shiny surfaces and allows inspection of details and defects that would otherwise be concealed by reflected light.
Dark field adaptor — Remove the RL16XT from the microscope, install Orled's dark field adaptor, and place it under your subject facing up. The light refracted through the adaptor will light the subject from below without entering the microscope. The viewer will see a subject with illuminated edges on a black background. This is an excellent way to inspect edge detail, and the best way to examine defects within transparent objects.
Prices