Model RL9
:: High-output ring light with polarizing option
Please note that this is a legacy product. We recommend
Model RL16
for new designs.
Description
Surpassing the low-light output of contemporary LED ring lights, Orled's RL9 illuminates a 1.5-inch spot with a brilliant 60,000 lux: nearly the brightness of direct sunlight. The cool nature of LED white light prevents heating of the illuminated subject. Brighter output allows the RL9 to be used with inspection microscopes of higher magnification while still combating eye fatigue effectively.
Orled's ring light achieves extraordinary light output through the use of high-power LED packages and an innovative heat sink. An advanced lens design directs light from individual sources to the centerline of the ringlight, blending it into an evenly luminescent spot.
The RL9 comes equipped with a current-controlled power supply that plugs into standard line voltage. A brightness control allows the light output to be dialed in between no output and full output to meet the operator's exact requirements. With three soft-tipped set screws on a clamping internal diameter of 2.65 inches, the light is easily and securely mounted to most inspection microscopes by Leica, Carl Zeiss, and other leading manufacturers.
Polarizer
The RL9 is now available with a polarizing option that diminishes glare from reflective objects. Light from the LEDs passes through a polarizing film before illuminating the object. Light bounces off the object and passes through an analyzer before arriving at the eye of the operator or the lens of the camera. Rotating the ring at the center of the ring light aligns the analyzer with the polarizer. The result is an image with less glare and more contrast. Glare reduction can be an indispensable asset for many applications.
In electronics, for example, the system can eliminate reflections from solder beads when inspecting assembled circuit boards. In dentistry, glare from wet enamel is decreased to allow cracks and cavities to be seen more clearly. For plastics, the system renders visible microfissures that would otherwise be hidden by surface reflections.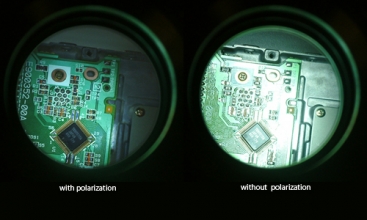 Available lenses, working distances
| Lens | Optimal WD | WD Range |
| --- | --- | --- |
| RL9-3 | 3.4 inches | 2.5 to 4.5 inches |
| RL9-4 | 4.2 inches | 3.2 to 6.0 inches |
Input power
The RL9 is supplied with an AC adaptor that can be plugged into all standard line voltages—100 to 260 VAC at 45 to 60 Hz. Plug adaptors for European or Asian electrical outlets are included on request. The AC adaptor powers the brightness control unit that provides the RL9 with the specified regulated power.
Prices